You will find on this page information about event agencies in France.
Enjoy your reading! 😉
From ancient Greece to the court of Louis XIV through the Roman Empire, events are an ancient tradition of humanity But it was in the second half of the 20th century that this sector developed exponentially, when companies understood that they could use it as a vector for their image and to develop their corporate spirit. This is how event agencies developed, in order to meet the growing needs of a new market. An
event agency
is therefore an agency that offers services (consulting, conceptualization, logistics, organization, planning.) in order to design events.
Business-to-business (B2B) events generated more than $1.070 billion in direct spending and attracted 1.5 billion attendees worldwide in 2017. (Events Industry Council, 2018).
35.6% of the world's business-to-business (B2B) events were generated in North America in 2018, placing the continent first in spending despite its third place ranking in number of attendees. (Events Industry Council, 2018)
In-person events are the most effective form of content marketing for B2B marketers. (Content Marketing Institute, 2016).
The entertainment industry is responsible for $198 billion of total global GDP economic output, including its direct, indirect, and induced effects. (Oxford Economics and Events Industry Council, 2019).
50% of marketers have attended a virtual or hybrid event. Those who have attended a virtual event are 51% more likely to attend another event. (Westuc, 2015).
40% of event planners use event management software. (EventMB, 2018).
74% of event planners use different event technology providers rather than an all-in-one solution. (EventMB, 2018).
Contracting with an event agency is synonymous with reliability, quality and satisfaction.
First advantage, you will benefit from a professional accompaniment. From the briefing to the end of your event, the event agency is your privileged interlocutor. Organizing a party or a team building requires a lot of time, which you do not necessarily have. The event agency will do everything possible to ensure that you are fully satisfied.
You can also be sure that your budget will be optimized to the maximum and that you will not lose a cent. These event professionals know the sector, as well as the providers to ensure you the best places and the best activities and they can even guarantee you very interesting prices. The agencies also use tools adapted to the event industry such as Lab Event in order to gain in quality in the accompaniment of their customers.
Finally, calling on an event agency will ensure the success of your event. You will save yourself a lot of stress and many constraints.
Today, environmental and societal issues have become important criteria in the CSR of a company (Corporate Social Responsibility); and this requires a positive communication of its brand image to the general public as well as to its employees. An event agency will be able to put itself in your shoes to understand and spread the values of your company during your event thanks to all its experience and feedback from previous clients.
Lab Event is the first ERP/CRM software dedicated to the event industry! Enjoy many benefits:
Manage more events in less time
Increase your revenue
Improve your profitability
Work better with your customers

but also with your employees

…
By opting for its use, you will have access to different features. You will be able to:
detail the organization of your events
track the availability of your rooms/venues
to have a commercial follow-up of your customers and providers
share your services and places thanks to your database
create quotes and invoices

jointly manage your

events

with your employees

by centralizing information
Our team will be with you every step of the way at Lab Event. We invite you to test our tool for free and without obligation;so don't wait any longer and try a complete digital tool specially designed for events!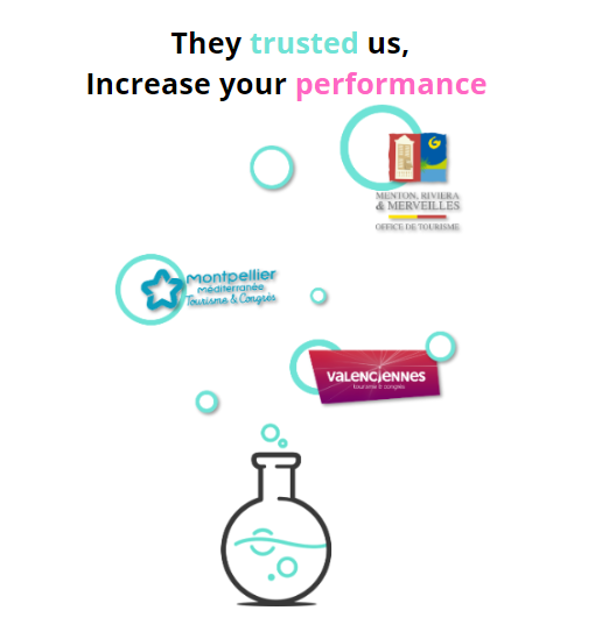 Don't waste any more time! Take advantage of a trial session!
Test, organize, in short: live the Lab Event experience without limits for 1 months.
Our contact : contact@lab-event.com
Lab Event offers you features such as
Learn more about event agencies?
Our clients' testimonials: