Functionality included from the PRO offer
Create your quotes and invoices more easily than ever!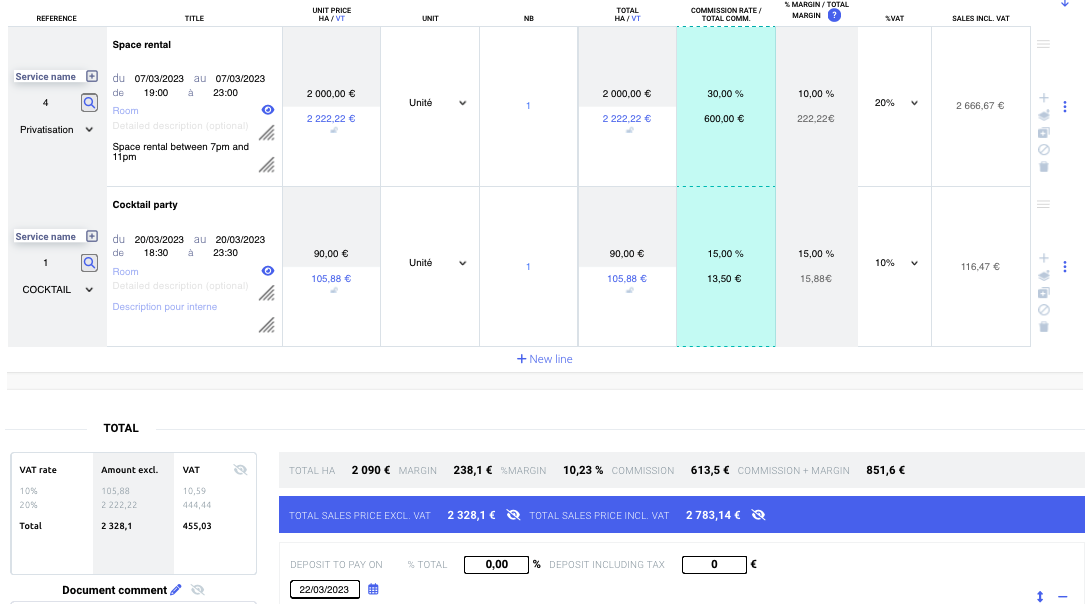 Quote and invoice templates
No need to start from scratch, Lab Event gives you the possibility to import templates that you have previously defined. They can be composed of articles, titles, subtotals… to prepare turnkey estimates and invoices.
A powerful article management
Create your item catalog and call them with shortcuts when you create your quotes. All items can be defined with single or multiple VAT rates, margin rates, commission rates and of course purchase and sales prices.
Your benefits
Create your quote in one click from the event

Turn your quote into an invoice in 1 click

Track your payments on the tool

Calculate and track your commissions and margins
Client testimonial
"Using this software to create my quotes and invoices has helped me a lot in organizing my work. From now on, no more mistakes, everything is more efficient thanks to the intelligent search which is a real time saver.
This is very useful for me because it gives me a view on all of my quotes and invoices, but also gives a clear and accurate cost idea to my customers."
Elie, event agency director
Practical Case

This feature gives you a better vision for the management of quotes and invoices. The best part? Everything is customizable! Your quotes and invoices are better structured to make them easier to read for you and your customers.
Create your estimate or invoice from an event or for a company. The software being very intuitive will guide you step by step to form your commercial proposal.
Simply enter the basic information in each field.
Summarize your information, skip lines, view the subtotal of each benefit and more.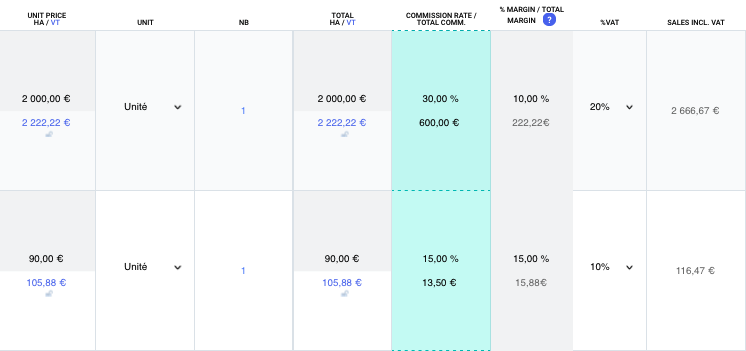 Change the statusof your estimate or invoice to follow its progress.
Createunlimitedestimates and invoices and reuse them!
FAQ Devis / Facture
Qu'est ce que c'est ?
Le module de gestion d'événements vous aide à organiser votre temps autour de toute votre activité événementielle. Il vous aide à ne rater aucune opportunité et à avoir un suivi sans faille.
A quoi sert-il ?
Ce module a plusieurs fonctions :
Prise de brief intelligente
Suivi client et historique des événements du client
Demande de devis simple car intégration automatique des produits
Suivi des propositions
Comment puis-je créer un nouvel événement ?
Plusieurs moyens pour créer un nouvel événement grâce au bouton "Nouvel événement"
Dans le menu en haut à droite
Sur une fiche contact client
Dans la liste des événements
Comment lié un client à un événement ?
Dans l'onglet Client, tapez dans la barre de recherche le nom de votre client ou la société cliente pour le retrouver dans la base de données.
Si c'est un nouveau client, cliquez sur "+ Nouveau Client" pour créer un client depuis la fiche événement.
Qu'est ce que le brief général ?
Le brief général est l'onglet où vous retrouverez tous les détails concernant l'événement, du nombre d'invités à la description précise de l'événement en passant par les horaires et bien d'autres.
Qu'est ce que le suivi commercial ?
Vous retrouvez dans le suivi commercial toutes les informations reliées à l'événement telles que le nom du commercial, la source, le suivi de prestation, les tâches reliées, l'historique d'emails échangés, ainsi que les rendez-vous et les appels passés avec ce client.
Comment envoyer un email depuis le suivi commercial ?
Dans l'onglet suivi commercial, cliquez sur "+ mail" pour envoyer un mail au client.
Comment ajouter une tâche ou une information dans une fiche événement ?
Dans la rubrique Activité avec le client, cliquez sur "+ Tâche" ou "+ info" puis remplissez les champs.
Comment ajouter un lieu ou une prestation à partir d'un événement ?
Plusieurs moyens pour ajouter un lieu ou une prestation à partir d'un événement :
Dans la fiche d'un événement,cliquez sur "Chercher et ajouter une prestation" dans la rubrique Brief général.
Vous pouvez également y accéder en cliquant sur le bouton "Rechercher un lieu/prestataire" dans la rubrique "Lieux ou Prestations souhaitées".
Attention ! Vous devez choisir un type d'événement avant de pouvoir rechercher un lieu ou une prestation !
Comment envoyer un email relié à un lieu ou une prestation ?
Dans la liste des lieux et prestations sélectionnés, cliquez sur l'icône "enveloppe" au bout de la ligne du lieu ou de la prestation souhaité. Choisissez ensuite si vous voulez envoyer un email au client ou au prestataire de cette prestation.
Our clients' testimonials: