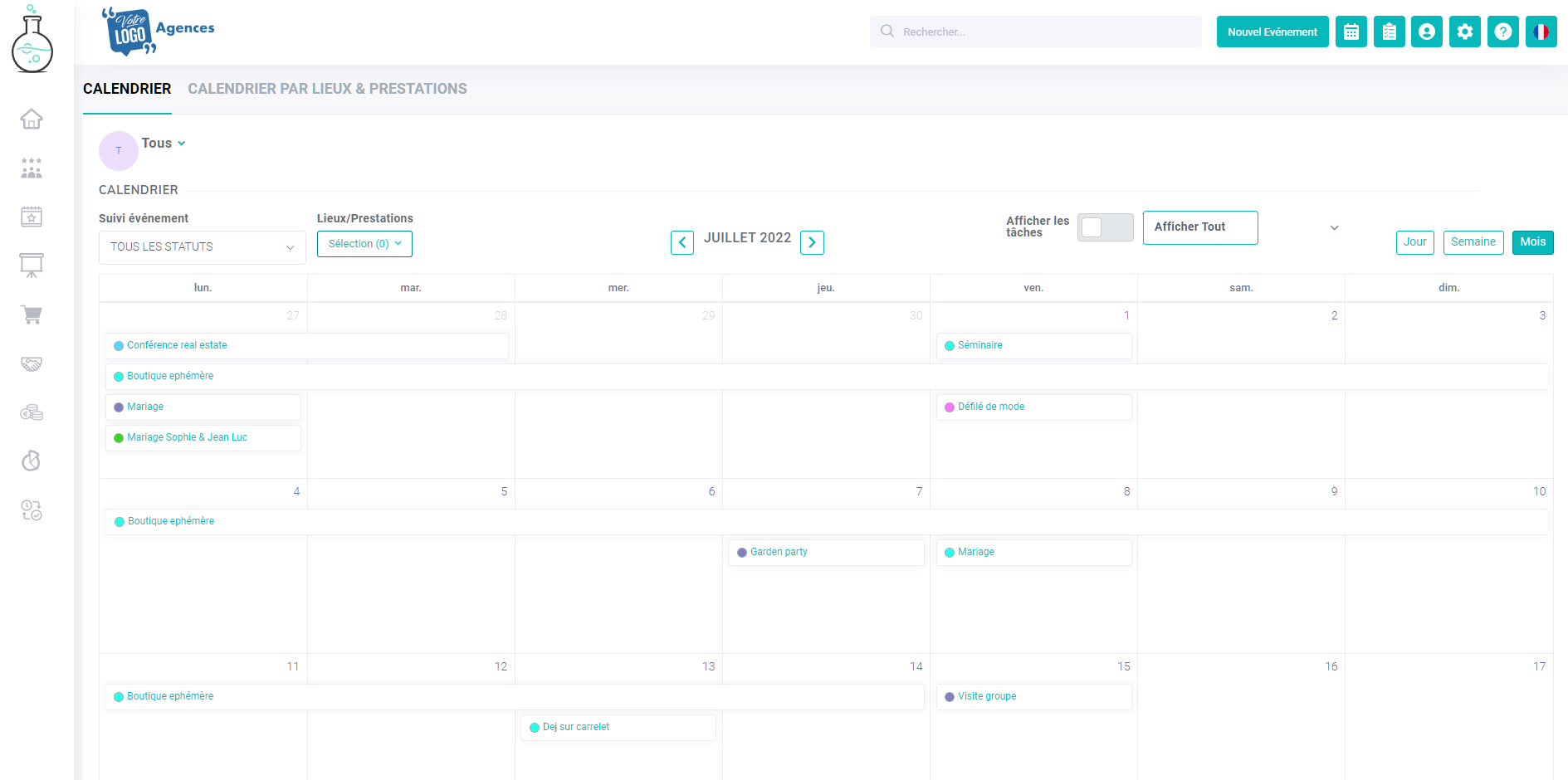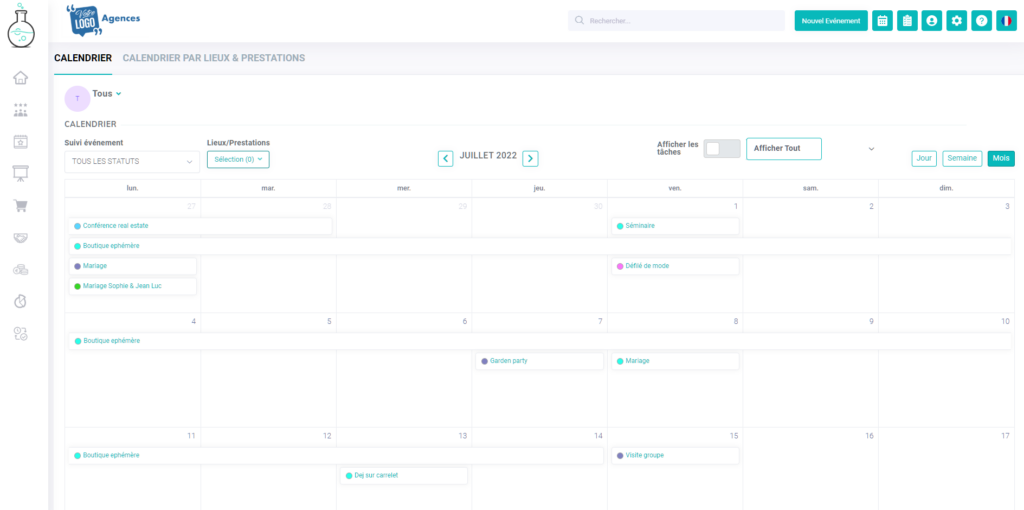 Plan your activities and tasks to achieve optimal productivity
Keep an eye on your current and upcoming events and optimize the management of your business with an online calendar.
Use advanced features
You will be able to manage your events and your organization more efficiently with the help of filters: display your events by progress status, by day/week/month or by venues and services associated.
The calendar gives you the possibility to display your tasks and those of your team so you don't miss anything!
Keep your team informed at all times
The user view gives you the possibility to display the events by user or globally. Share this view with your teams to keep them informed of upcoming events.
Manage the reservation of your rooms
Optimize and plan the rental of your spaces by creating your own calendar by venues and rooms and update your availability with a simple click! Choose the rooms you want to appear and book your events accordingly.
Create your events more easily
Don't waste time creating your events, do it directly from the calendar. Select the time slot, associate a client and add all the elements necessary for a successful event.
Choose your calendar view
Display your calendar with only your events or use the simplified view for a better overview of the selected period. Customize this view by days, weeks, months, hours…
Your benefits
A simplified view of your events
A calendar shared with all your teams
More efficient event management
A better management of availabilities and reservations
Client testimonial
"I was very surprised by the combination of many useful features that Lab Event has to offer, especially on the calendar by rooms which allows us to better manage the booking of our venues. Being able to create our events directly from the calendar also saves us a lot of time."
Flora, Event Project Manager
Practical Case

How to create an event from a calendar?
As a venue manager, you need to have a quick overview of your availability in order to book your rooms as soon as you receive your requests. Lab Event's venue and room calendar allows you to book your rooms and associate events with them without having to leave the page!
To do this, nothing could be easier: choose your room and reserve a slot. A pop-up window will show you the information you need to enter in this reservation. Enter the time title or event stage, choose an existing client / prospect or create a new one.
Add one or more items that meet your customers' needs and you're done! Your event will be visible to all users to avoid the risk of double booking.
Your room booking slots will be added automatically in the event details. All you have to do is make sure your event is well organized!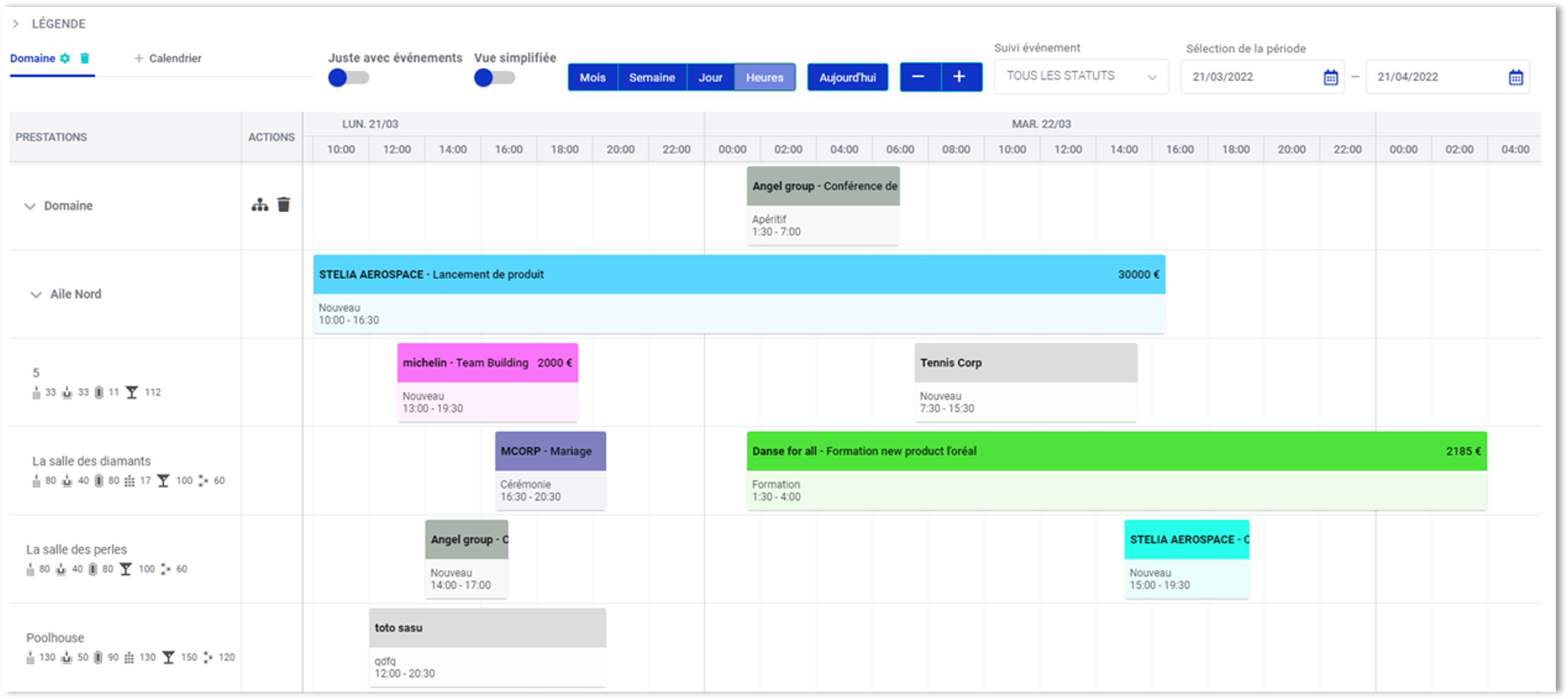 Our clients' testimonials: