Switch to digital or hybrid events with an integrated tool!
Error! You must specify an anchor parameter if you are not using the auto_thumb option.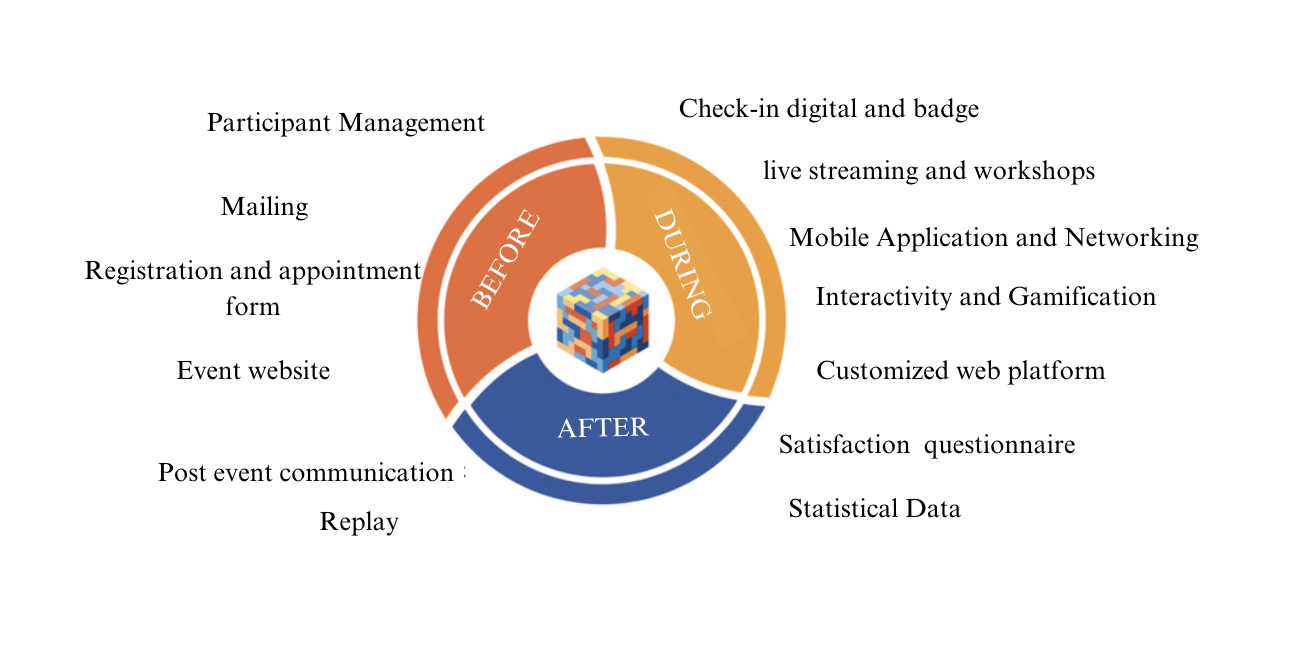 Plateforme sécurisée
RGPD compliant et audits régulier) pour tous vos événements (digitaux, hybrides, présentiels) avec avant, pendant et après événement.
Support from A to Z
You are the creator of the event and choose the level of support desired and the modules to be integrated with the possibility of an "à la carte" event that can be modified until the last moment.
Your benefits
+ 100 modules to create highlights, sessions with varied rhythms, to never lose the attention of the participants.
Easy and convenient to use platform with intuitive interface suitable for non-computer scientists. It is equipped with the latest innovations in software engineering.
100% made in France with a team of experts, development and data hosted in France (RGPD-compliant). Our computer system is regularly audited and counter-audited to ensure its security.
Our partner AppCraft follows an ambitious CSR policy. Soon to be ISO 20121 certified, their data centers meet a strict list of Green IT criteria. AppCraft strives to make all stakeholders aware of these challenges.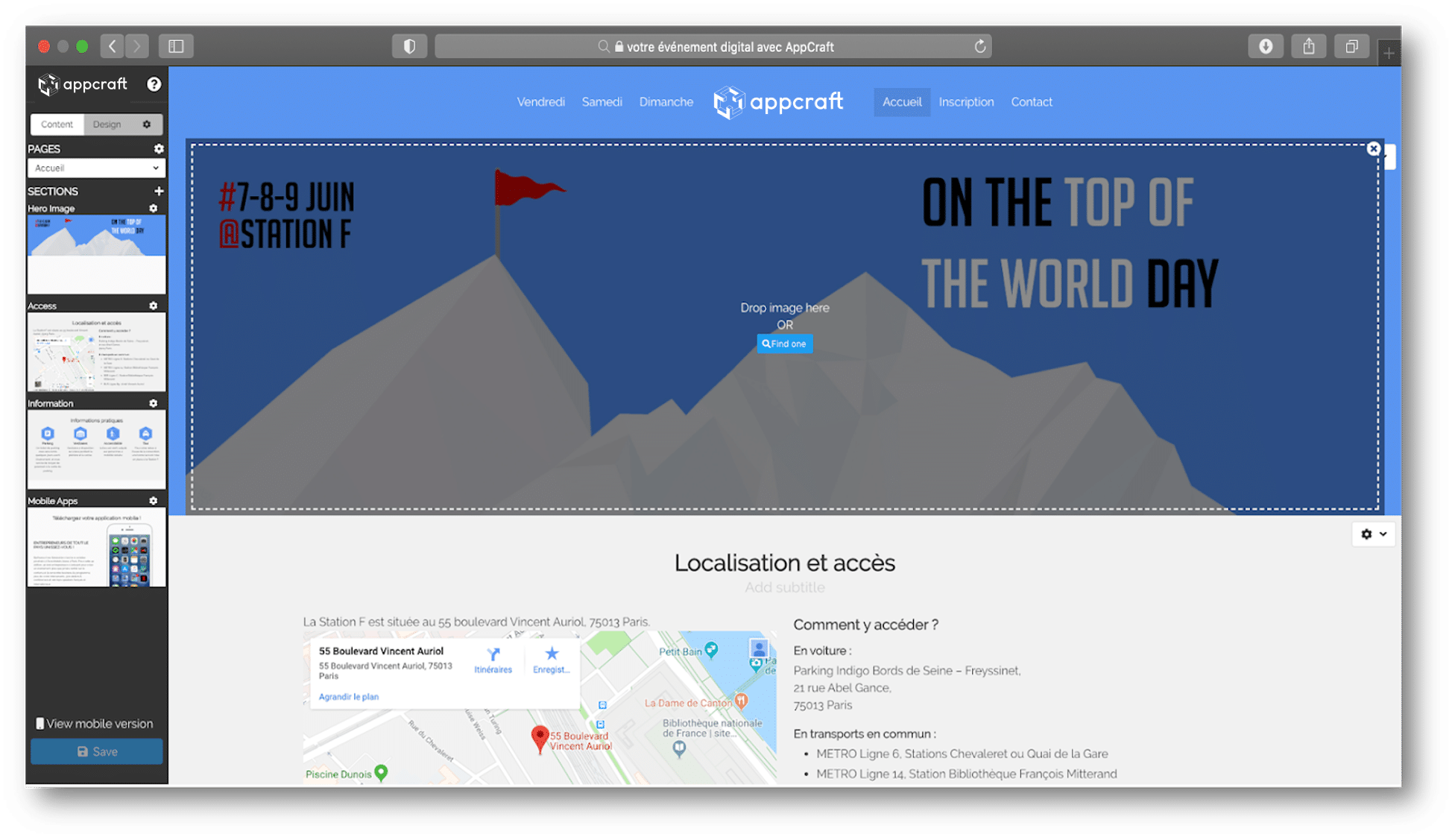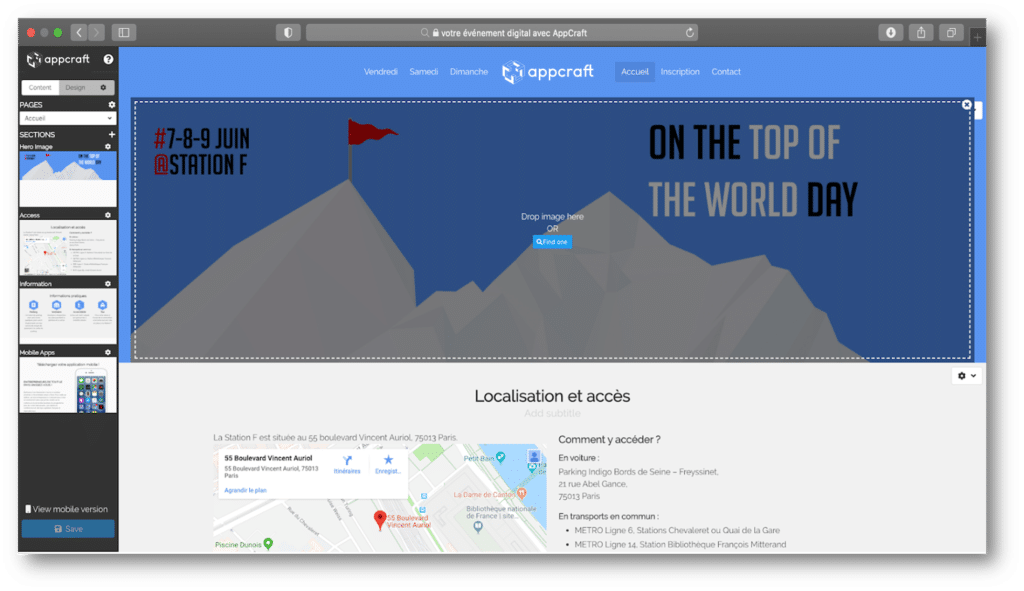 Client testimonial
"Thank you to AppCraft for their trust. We share the same values. We have had the opportunity to use AppCraft's solutions for our Ecosystem Experience with great success." Michel PAULIN – CEO d'OVHcloud
Practical Case
As a communication / event agency or company, you need to set up events: internal, external, digital, hybrid, face to face. To do this, you need a solution that allows you to create a unique and immersive universe, ways to attract and engage your participants before, during and after the event. Our goal is to provide you with the right tools and support to ensure a successful event. Here's how to do it.
In contact with our sales team, you will expose your precise needs to allow us to determine the tailor-made solution that will best fit your request. You are the creator of the event and choose:
the desired level of support
the level of digitalization of the event (face-to-face, hybrid or digital)
modules to be integrated with the possibility of an "à la carte" event that can be modified until the last moment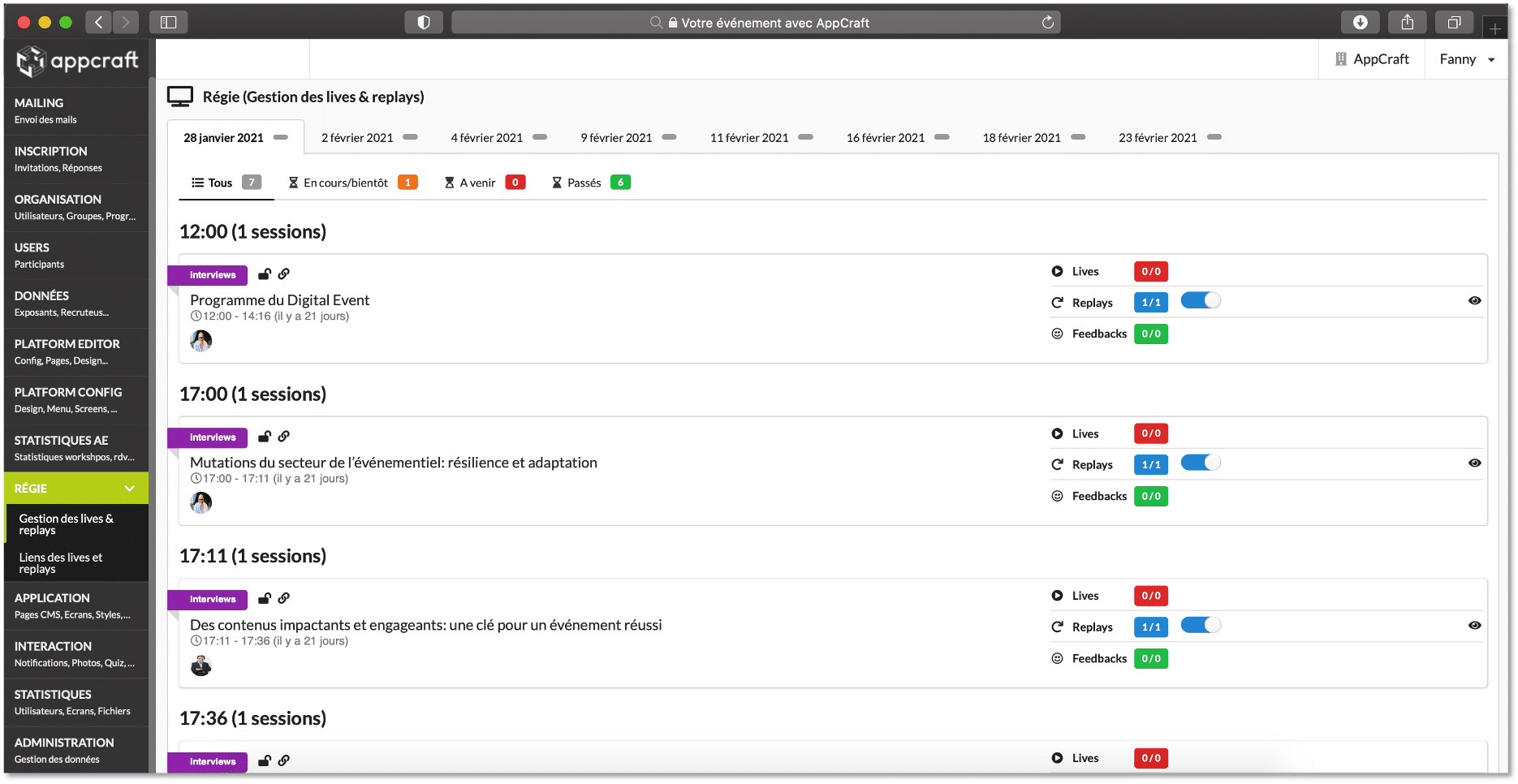 As soon as the contract is agreed, we organize a kick-off meeting between our different divisions within 72 hours that will be in charge of your event. This will be an opportunity to review your entire project, remind you of our RGPD rules and establish the joint retroplanning. The step that follows this kick-off is the training of the teams with a single contact person throughout the project.
You have access to premium support from A to Z. That is to say, at the initialization stage, we offer you the time you need to be autonomous. The platform is very intuitive and 2 hours of training on the platform are provided by default. Finally, you are accompanied by a project manager (direct telephone, email and video).
In addition, we offer a support service during and after the project so that we can best work together and propose areas for continuous improvement.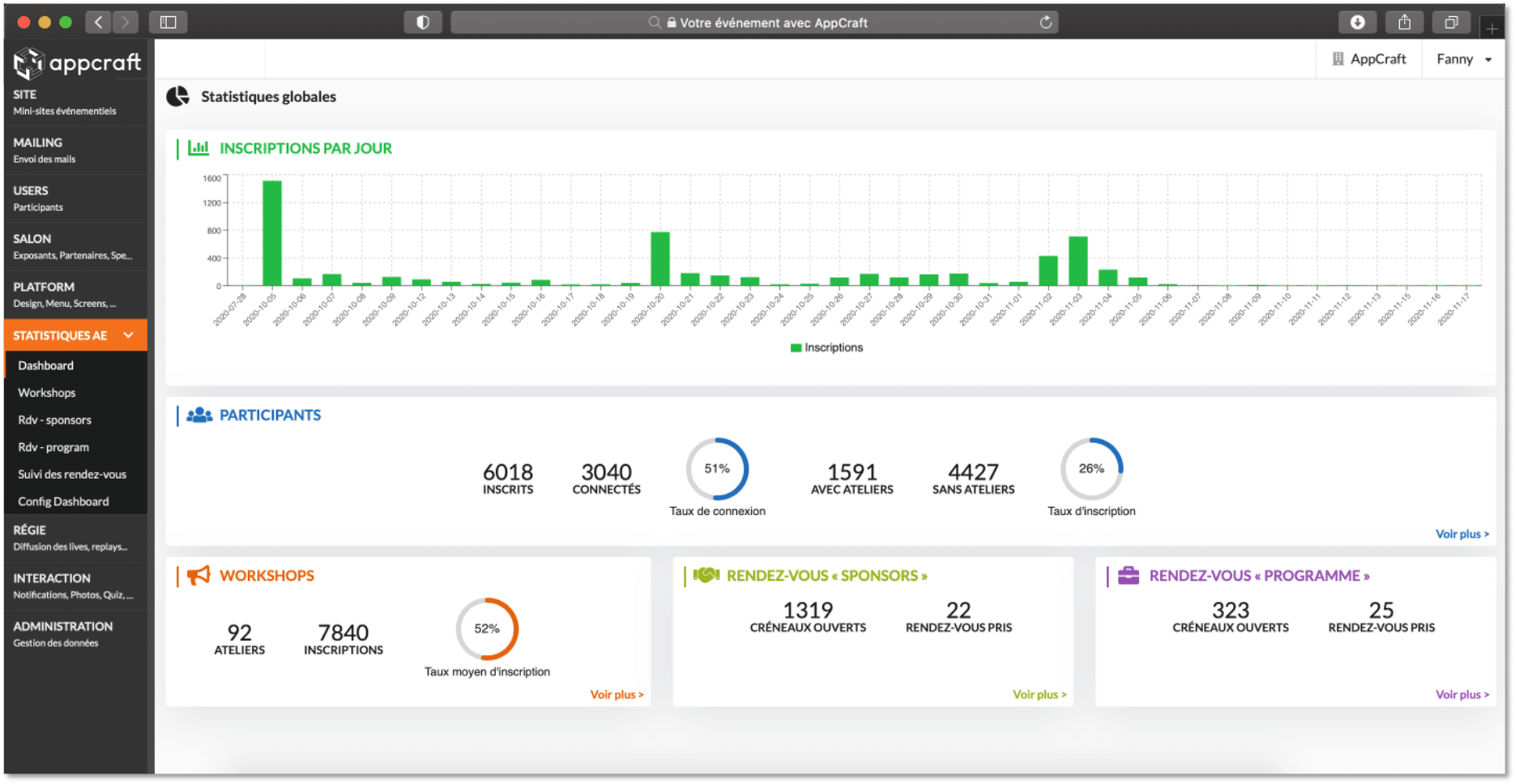 FAQ Production of a digital and hybrid event
L'accès à la solution est-il sécurisé ?
La protection de vos données est notre priorité. Nous ne partageons ni ne vendons d'informations personnelles avec des organisations tierces. L'accès au back-office est limité aux administrateurs que vous désignerez et un mot de passe unique est généré pour chacun d'entre eux. Un mot de passe (individuel ou générique) est requis pour l'activation de l'application lors de la première connexion de chaque participant.
Combien de personnes peuvent avoir accès à la plateforme de gestion des événements ?
Vous disposez de 2 administrateurs par défaut lors de la souscription à notre offre. Si vous souhaitez offrir l'accès à plus de personnes, veuillez nous consulter.
Je ne suis pas informaticien(ne), puis-je utiliser le Back Office sans avoir de compétences dans ce domaine ?
Notre solution a été spécialement conçue pour être intuitive et facile d'utilisation sans recevoir une longue formation technique. Notre promesse: vous rendre complètement autonome sur l'utilisation de votre Back Office. Notre plateforme est donc à 100% utilisable en autonomie par des non-informaticiens.
Si je veux ajouter un module plus tard, est-ce possible ?
Notre solution est ultra modulaire. Son système "Plug and Play" permet, grâce à notre bibliothèque de composants, d'activer et de désactiver des modules en temps réel. Ajouter un module plus tard avec notre solution est donc totalement envisageable. C'est l'assurance pour vous d'avoir une solution clé en main, sur-mesure et très évolutive.
Tout au long de l'évènement, est-il possible de modifier les informations ?
Dès l'instant où vous enregistrez des modifications faites sur votre Back Office, l'application se met à jour instantanément ! Le planning de la journée à modifier ? Un speaker qui change ? Ce n'est plus un souci avec AppCraft qui modifie les données en temps réel. Et si vous avez besoin, vos participants peuvent être notifiés du changement 😉
Y-a-t-il des templates pré disponibles pour configurer mon application et mon mini-site ?
Des templates sont pré-disponibles directement sur le Back Office. Ils permettent de personnaliser l'application de l'événement mais aussi le mini-site. Cependant, sachez que vous n'êtes pas limités à l'utilisation de ces templates, bien au contraire ! Nous adorons recevoir de nouvelles demandes de clients avec des idées précises concernant le design de leur application ou leur mini-site. Nous mettons alors tout en œuvre pour les satisfaire. Nous vous encourageons donc à être vous aussi créatifs pour que nous puissions créer de superbes projets ensemble 🙂
Comment puis-je calculer mon retour sur investissement ?
Dans votre Back Office, vous retrouverez une partie 'Statistiques' avec toutes les informations que vous souhaitez voir apparaître pendant et à la fin de votre événement. Il n'en tient qu'à vous de choisir si vous voulez des informations très détaillées pour réaliser de véritables analyses ou d'avoir des résultats simples représentés sous forme de graphiques qui permettent une lecture rapide et efficace. Vous pouvez ainsi calculer très facilement votre retour sur investissement et orienter vos choix stratégiques.
Suis-je accompagné(e) avant, pendant et après mon événement ?
Bien entendu ! Nous vous offrons en premier lieu une formation de 2h pour que vous appreniez à utiliser votre Back Office.  Dans un second temps, pendant toute la durée de l'organisation de votre événement, notre équipe est là pour répondre à vos questions et vous aider sur votre Back Office.  Notre accompagnement ne s'arrête pas à votre événement ! Nous sommes là après si vous rencontrez une difficulté quelconque pour extraire vos données ou pour analyser vos statistiques. Pour vous offrir un accompagnement adéquat, nous vous proposons de le "doser" et de choisir votre pourcentage d'autonomie sur vos différents événements. Vous nécessiterez probablement plus de soutien pour votre premier événement mais au fil du temps, vous serez le plus autonome possible sur vos différents projets.
Our clients' testimonials: