With so many events planned, from a simple business workshop to the organization of a big wedding, you will need an invoice tailored to the needs of your events.
Between the planning, the search for providers, the selection of the venue, invoicing your clients is a step not to be left to chance, but which you fear so much.
There are powerful tools that remove the complexity of your invoicing process, giving your teams enough time to plan perfect events.
But how do you create an event invoice and make it as unique as the event you are organizing?
We tell you everything!
Why do you need an invoice?
Event planning is part of your core business, but will it matter if you don't get paid?
Your customers have trusted you to ensure their events run smoothly and you have invested yourself for several days to meet their expectations. Therefore, you can in turn ensure that you are paid on time.
The invoice is the best way to record the sales made, to have an overview of the progress, the remaining balances and the transactions that took place. They can also help you grow your business by identifying your top performing events, or simply track sales made by your employees.
So, by using an invoice, you will not only be able to track all your business transactions but it is also an efficient way to collect your payments in the right time.
How to make an invoice in the event?
Now that you know you need to make your invoice a priority, the question is how to make your invoice adapt to your events and especially that they are relatively simple to do and understand for your customers.
As you can imagine, no events are ever the same. That's why you need to create a customized invoice based on your customers' information and requirements.
This would include the following information:
1- Enter your company information
Start by personalizing your invoices with your brand image (logo, colors…). Then be sure to add all your company information (name, invoice address, phone number, email address…).
2- Enter your customer's information
It is important to make sure that your customers' information is up-to-date at the risk of having your invoices rejected. This information must contain the name of the company, the name of the contact, the address, the telephone number or the email address.
3- Enter the event information
Then, you can add the event information by indicating the title of the event, the associated dates and then create a detailed breakdown of your services and items: enter your rates and additional charges (rental, equipment, transportation to the event site, etc.). If your customers have paid you a deposit, indicate it on the invoice as well as the total amount remaining.
4- Indicate general terms and conditions of sale
In order for your invoices to comply with the regulations, your general conditions of sale must appear on them. It is also interesting to add your special conditions, payment conditions and banking information.
Including all this data is a great way to make your invoices more attractive and will strengthen your reputation.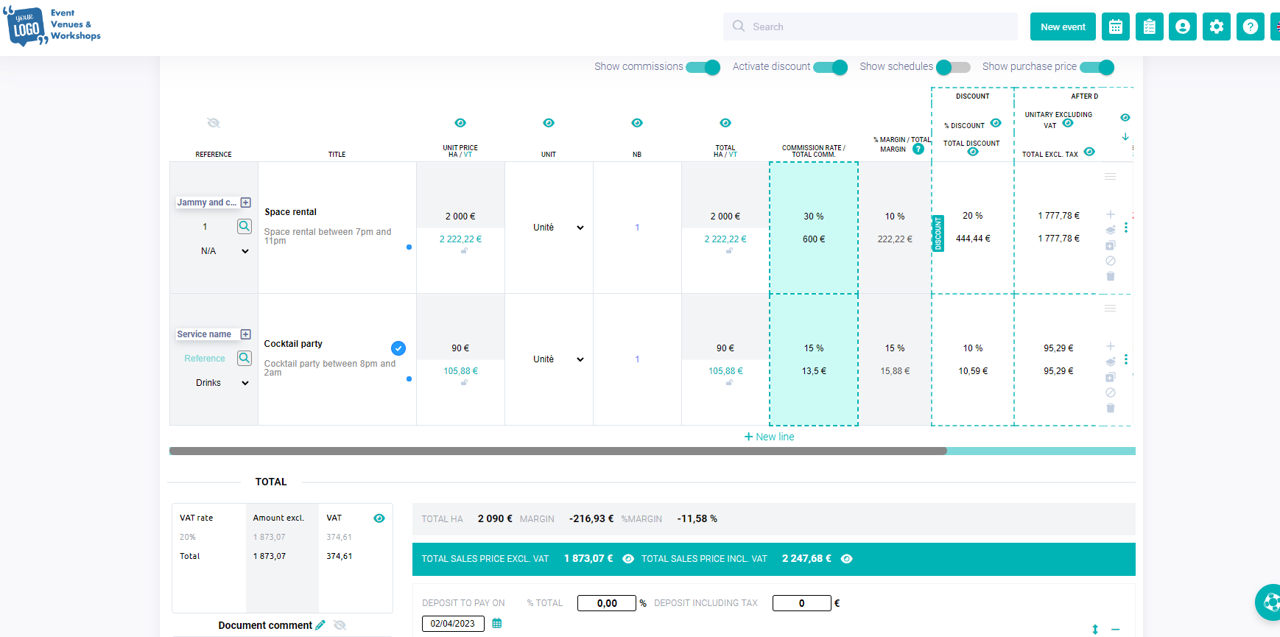 What are the best practices for an event invoice?
Use invoice templates
It can happen that you are overwhelmed by the organization of your events, and that is understandable. If you don't think you have time to invoice your customers, the best way is to use invoice templates so you don't have to start from scratch. With the Lab Event invoice module, you can create custom invoices from your templates or simply turn your previous quotes into invoices.
Send your invoice as soon as possible
As seen above, if your invoice is clear enough for your customer and you plan to send it as soon as possible, you'll be more likely to get paid on time. Lab Event lets you choose to hide the information you want to show to your customers when exporting to PDF and then quickly send it to your customers.
The Lab Event invoice module contains all the elements you need to create your invoice in one click while retaining the time you spend planning your events. Your invoices will be automatically saved in the tool and you will keep track of their progress.
The software being very intuitive, you will be guided step by step to build your commercial proposals.
Our clients' testimonials: