Sales presentations are a great way to stand out and can have a strong influence on your potential clients. In the event industry, there are different methods to design your proposals.
If you are looking to grab attention and convince your clients that you are the person they are looking for for their event, you need to provide them with exactly what they need. And one of the best ways to do this is to give an organized overview of the event through a good business presentation
Now, the biggest challenge you might encounter is creating content that is both creative and compelling. Whether you are a novice or a professional, we give you all the steps to follow to make a good sales presentation in the event industry!
Gather important information
A well-developed, clear and attractive presentation can earn you points from your clients.
But before you start designing the form of your marketing presentation, you need to make sure that all the information you need is at your disposal:Type of event, client, number of participants, budget, dates, catering, accommodation, colors, atmospheres, etc. All of these needs must be assessed upstream in order to provide the most comprehensive and customized proposal based on the event.
You can then start thinking about how you will present your proposal.
Structure your presentation
After gathering the basic details about your client and the event, your goal will be to structure your proposal and ensure that you show them that you understand their vision.
Bring your personal touch by offering, for example, unique places they would not have thought of, present your services to them through personalized packages and list your recommendations. Keep in mind that most clients don't know exactly what they want. If they use your services, it's mostly because they are looking for the right event planner to help them organize their event in the best way.
It is also an opportunity to show you what you are capable of and what differentiates you from your competitors.
Make a creative and visual presentation
Create a layout that reflects your image
Through the tool you will be able to add basic elements: images, titles, texts or shapes.
It is strongly recommended that you adapt your presentation according to your brand image but also the type of event organized: Use your colors, fonts, logos… You will then bring your own visual identity and project your customers directly into your atmosphere.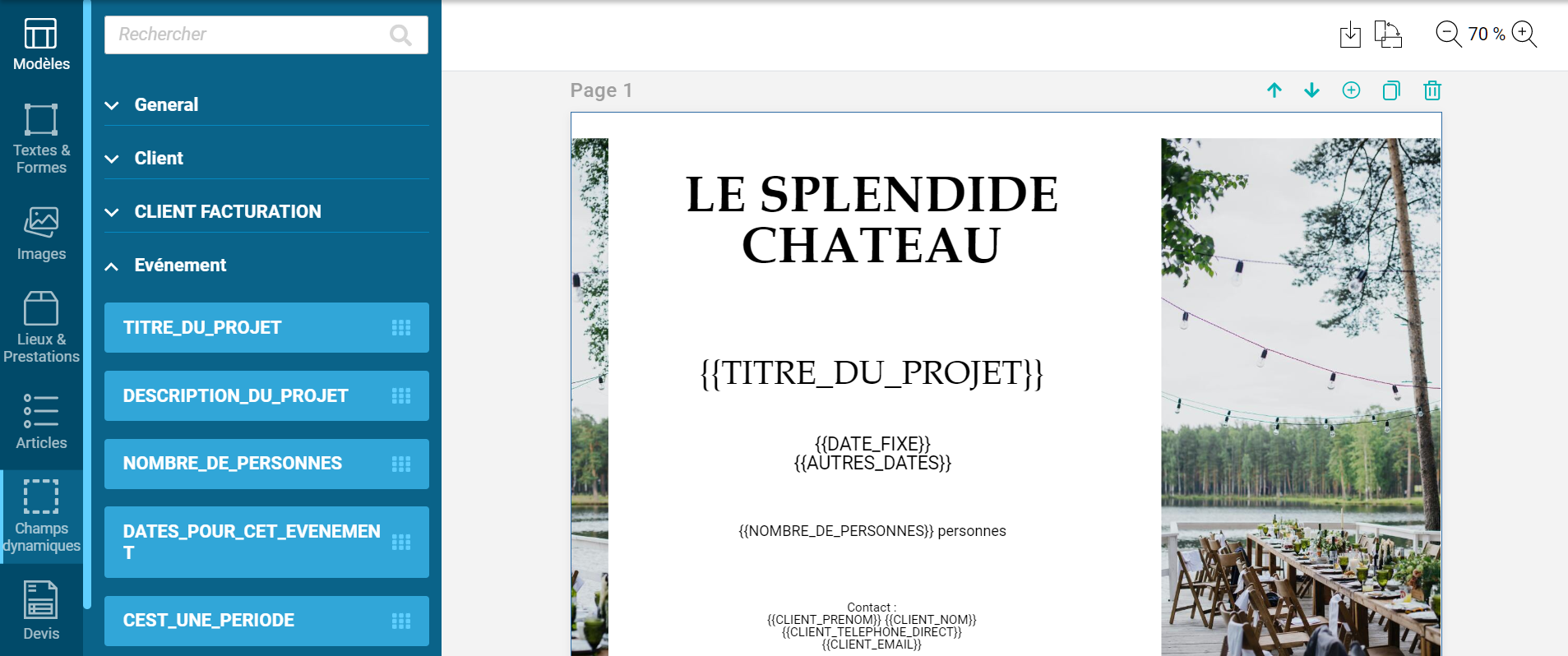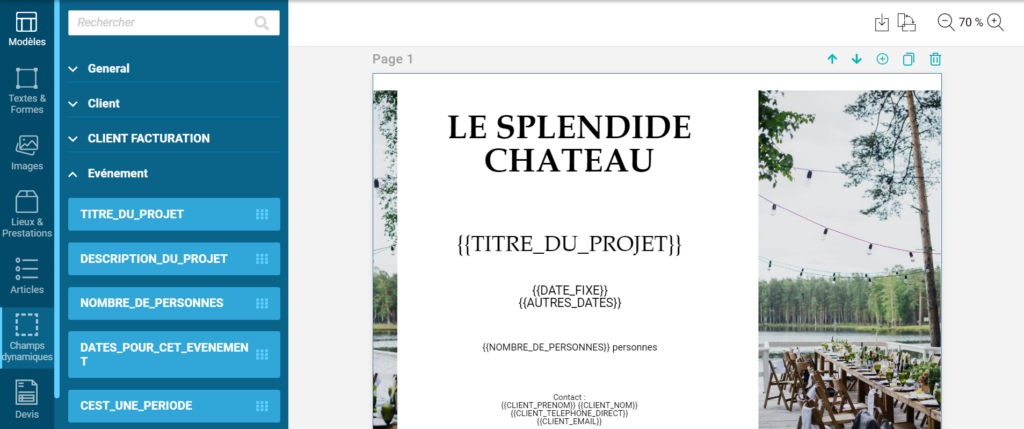 Customize your presentation
You are about to organize a unique event for your clients. So you need to tailor your presentation to their expectations.

Use dynamic fields
On Lab Event, it is possible to integrate dynamic fields such as the name of the client, his contact details, the dates or the sequence of the event. Inserting these fields will allow you to create your presentations even faster and you won't waste time copying and pasting between your information and that of your clients.

Present your places and services
A simple way to present your selected venues and services is to use automated presentations. The tool will propose you a selection of your places and services presented in a visual and descriptive way. With one click, you create dynamic and reusable presentations.

Add a budget section
After presenting your proposal in such a way that your client can project himself, it is highly recommended to add a section dedicated to the estimated costs for each proposed service. You can easily create your recommendations on Lab Eventand give an overview of your costs, additional costs, options or rebate: simply select your items and services and your proposals will be generated automatically!
Use presentation templates
As an event organizer, creating sales presentations from scratch for each of your clients is not the best way to do it. If you want to spend more time organizing the event, the solution is to use presentation templates. For example, you can create on Lab Event your sales presentation templatesby type of event by including dynamic elements in code format. Once you have created your event, all you have to do is link your template to the client and the event without having to edit anything on the presentation!
In the end, creating a good event sales presentation is just as easy when you use the right tools.
Lab Event has all the necessary elements to create your internal or external documents, i.e. your commercial presentations, recommendations, quotes, mission sheets etc. The software is very intuitive, so you will be guided step by step to create your documents.
Our clients' testimonials: